Why Come to Us for Dental Implants?
As a periodontist, Dr. Flynn is a specialist in the placement of dental implants and in gum treatment. Because periodontists are experts at evaluating the condition of the gum and bone tissue surrounding implants, they can do any needed procedures connected to dental implant placement.
Dr. Flynn has received extensive training in all aspects of dental implant placement and has treated thousands of  implant cases. His training and expertise have exposed him to many kinds of dental situations, enabling him to successfully handle even complex cases.
Advantages of Seeing a Periodontist for Dental Implant Treatment
High success rates
Competence in treating complex cases
The ability to provide advanced treatment when necessary
Reduced risk of implant failure
Quick and efficient treatment, which equals shorter time in the chair, faster healing time and less discomfort
State-of-the-Art Technology for Precise Dental Implant
Planning and Placement
Dr. Flynn uses a 3D cone beam scanner to get a detailed view of your entire mouth and jaw area. This enables him to identify the areas of bone that are most suitable for dental implant placement.
Using advanced 3D implant software, Dr. Flynn virtually simulates the surgery ahead of time and precisely maps out the location and angle of each dental implant. Dr. Flynn creates a computer-generated surgical guide to ensure accurate implant placement. By preplanning the surgery, he can ensure that the surgery goes smoothly and without complications.
High-Quality, Beautiful New Teeth
Dr. Flynn works with an excellent team of general dentists and lab technicians to fabricate your new teeth. They are fabricated from top-quality materials and look lifelike and aesthetic. Our team works together to ensure that you receive the highest-quality implants that will provide strong and stable support for your new teeth.
Complimentary Dental Implant Consultation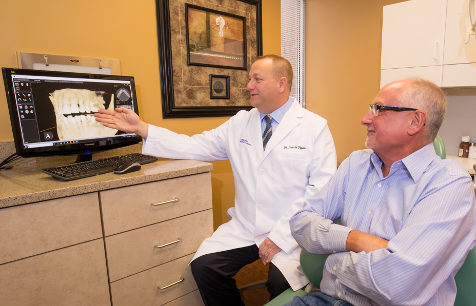 Dr. Flynn offers a free consultation, so you can find out what your best treatment options are. Your consultation includes:
Meet with Dr. Flynn
Comprehensive oral examination
Discuss your goals
Learn about your treatment options
Get all your questions answered