Dental Implants in Aurora
If you need one or more teeth replaced, dental implants can make a big difference in your quality of life. Implants are strong and stable, and they enable you to eat, chew and smile again with confidence.
Experienced Dental Implant Surgeon
As a periodontist—a specialist in the placing of dental implants and in gum treatment—Dr. Flynn has placed thousands of implants, and he has extensive experience with many different types of dental situations. This means a reduced risk of implant failure, and a reassurance that you are in the best hands.
Periodontists receive an additional three years of specialist training after becoming a dentist. This includes advanced training in bone grafting and gum grafting procedures, which can be necessary to making dental implant treatment a success.
In addition to relying on his periodontal training, Dr. Flynn takes regular continuing education courses to keep up with the latest developments in his field. He uses advanced 3D imaging and treatment planning technology, and state-of-the-art surgical techniques.
Dr. Flynn has helped thousands of patients receive the benefits dental implants have to offer. Thanks to his training and experience, he can provide effective treatment for even the most complex cases.
---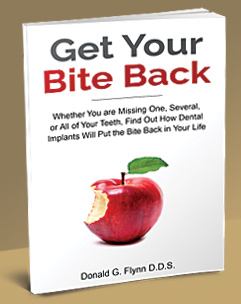 Get Your Bite Back by Dr. Flynn

Get Your Bite Back explains the many benefits of dental implants. It also describes the positive effect dental implants can provide to your life and overall well being.
---
Benefits of Dental Implants
Implants look, act and feel like natural teeth.
Implants are the strongest and longest-lasting replacement for missing teeth.
Implants let you talk, chew and exert pressure, just like with natural teeth.
Implants help preserve bone in the jaw, and prevent the collapsed facial structure that occurs with dentures and missing teeth.
3D Tech = Accurate, Minimally Invasive Treatment
Dr. Flynn uses state-of-the-art 3D imaging and treatment planning software for precise, minimally invasive treatment. The first step of the process is a detailed 3D scan of your entire mouth and jaw area. This enables Dr. Flynn to identify the areas of bone that are most suitable for implant placement. It also gives him a detailed look at the nerves and sinuses.
Dr. Flynn then uses advanced 3D implant software to simulate the surgery ahead of time and precisely map out the location and angle of each implant. During every implant placement procedure, Dr. Flynn additionally uses a computer-generated surgical guide to ensure that your implants are placed with complete accuracy.
The use of 3D technology and surgical guides allows Dr. Flynn to make your implant placement accurate and efficient.
Complimentary Dental Implant Consultation
Dr. Flynn offers a free consultation, so you can find out what your best treatment options are. Your consultation includes:
Meet with Dr. Flynn
Comprehensive oral examination
Discuss your goals
Learn about your treatment options
Get all your questions answered
Not Enough Bone? No Problem with All-on-4!
Thanks to modern technology, almost everyone in need of tooth replacement is a candidate for dental implants, even if they have suffered extensive bone loss. Dr. Flynn uses the latest bone grafting techniques to regenerate lost bone.
In some cases, he can avoid bone grafting altogether. If you need all of your teeth replaced, you may be a candidate for the All-on-4 procedure, which usually eliminates the need for bone grafting.
Beautiful New Teeth
Dr. Flynn works with excellent restorative dentists—or with your own dentist—to ensure that your treatment will result in a beautiful new smile that is comfortable and long-lasting.