All-on-4® New Teeth in One Day in Aurora and Peru
Dr. Donald Flynn will provide you with stable, permanently fixed-in new teeth using a comfortable, one-day procedure.
With this revolutionary tooth replacement option,
bone is preserved

,

your smile is restored

and you will be able to eat whatever you want!

Thanks to modern dental implant technology, even a seemingly hopeless smile can be restored to full health, function and beauty. Dr. Flynn offers a permanent solution to endless dental struggles, enabling you to regain chewing power and confidence.

The revolutionary All-on-4 procedure will provide you with strong and stable new teeth in one day, usually without the need for bone grafting. The All-on-4 procedure only requires four implants per arch, making it a relatively affordable way of replacing all of your teeth using implants.
One-Day Procedure
After your initial, in-depth consultation and preparation visits, you can receive the entire procedure in just one day. With the All-on-4 procedure, Dr. Flynn can perform any needed extractions, place the necessary implants and fix in new teeth in just one appointment.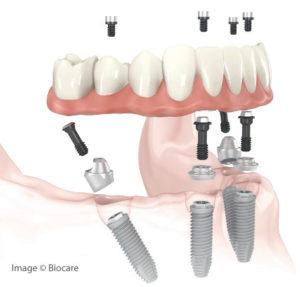 At the end of that appointment, you will have a fixed-in, provisional set of teeth and a beautiful new smile. The improvement in appearance is instantaneous. After the implants have healed, you will receive your final set of teeth. The final teeth provide nearly full natural chewing power, enabling you to eat whatever foods you choose.
How All-on-4 Works
The All-on-4 procedure makes use of dense, healthy bone in the jaw, typically located in the front of the mouth near the nose and chin. By placing implants at strategic angles, Dr. Flynn is able to take advantage of the best areas of bone. This technique avoids the need for lengthy and costly bone grafting.
3D Technology for Accurate Implant Placement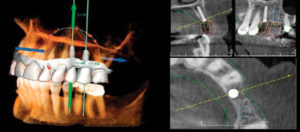 Vital to the success of All-on-4 treatment is the ability to view the structures of the mouth from all angles, using a state-of-the-art cone beam 3D CT scanner. After taking the 3D scan, Dr. Flynn virtually simulates the surgery in special 3D treatment planning software. Thanks to Dr. Flynn's meticulous planning, the surgery itself is a smooth and accurate procedure.
Beautiful New Teeth
Dr. Flynn works closely with excellent dentists for the fabrication of your implant-supported new teeth. The teeth are made from high-quality materials that look lifelike and aesthetic, and Dr. Flynn coordinates and plans out the entire treatment to ensure that they are well-positioned and result in a beautiful new smile.
Complimentary All-on-4 Consultation
To find out if the All-on-4 procedure is right for you, call us to schedule a complimentary consultation. The consultation includes the following:
Meet with Dr. Flynn
Comprehensive oral examination
Learn about your treatment options
Get all your questions answered
All-on-4 Case Studies
Case Study No. 1: This patient tried for years to save his teeth, but he suffered from tooth aches, failed root canals and broken teeth. He decided to replace his teeth with dental implants. To make it fit into his budget, the treatment was done in stages, starting with his top teeth. Now, he is happy with his fixed-in teeth and has a bright, new smile.

Case Study No. 2: This patient had gum disease and suffered extensive bone loss around his teeth, causing 
many of his teeth to loosen and start to shift. The teeth in his top arch were not treatable and had to be replaced. His new teeth look natural and they enable him to eat all the foods he loves, including pizza, corn on the cob and apples.


Benefits of All-on-4
Nearly everyone is a candidate for All-on-4 treatment, regardless of bone loss.
The entire procedure is completed in one day, including any extractions, implant placement and tooth attachment.
No bone grafting is needed.
The new teeth are permanently fixed in, and never have to come out of the mouth.
All-on-4 is the most economical full-arch, fixed-in tooth replacement option.
Patients get back nearly 100 percent of natural chewing power.
The ability to chew normally keeps the bone stimulated, preventing bone loss and providing a more youthful appearance.
All-on-4 immediately improves quality of life and self-confidence!